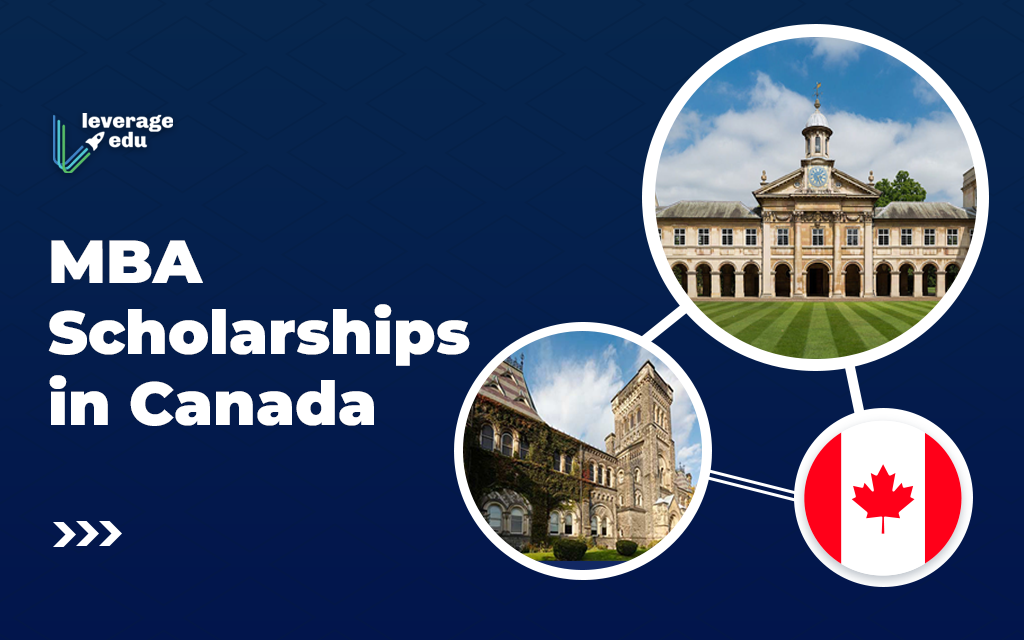 Earning an MBA degree is a huge accomplishment. The degree is what every business student wants and craves. It opens a huge range of opportunities to the student that earns it.
MBA stands for Masters of Business Administration and it is a sure guarantee for its holder that they will land a job rapidly and their career growth in the corporate world will be accelerated.
In this light, many students that had their undergraduate in a Business related course want to gain an MBA to boost their CVs. Not surprising at all. And because lots of students want to study for their MBA, there is need for scholarships especially for students who are from developing countries or who need financial support to study.
Many universities all over the world offer scholarships to students that wish to study at their institution and luckily, there are universities and colleges in Canada that offer scholarship opportunities to MBA students and we will take a good look at them in this article.
So, let's see the top ten MBA scholarships in Canada, shall we?
1.Ted Rogers School of Management at Ryerson University.
Ted Rogers School of Management is a management school located in Toronto, Canada and is one of Canada's leading management schools where students can apply for their MBA. It was also ranked as one of the top 25 international MBA programs according to Bloomberg Businessweek.
Because pursuing an MBA could be quite the financial investment, the Ted Rogers School of Management has partnered with Ted and Loretta Rogers and received a donation of up to $15 million for scholarships and awards. These scholarships and awards are meant to help students in the funding of their MBA programs.
Up to 24 students are awarded with scholarships and awards that are worth up to $20,000 each. In order to qualify for the Ted Rogers School Graduate Entrance Scholarship, the applicant must be academically excellent. Students are selected based on academic excellence and performance.
The scholarship is open to local Canadian students who are applying on full time or part time basis. And it is also open to international students who are applying only on a full time basis. To apply for their scholarships and awards, visit http://www.ryerson.ca/mba/admissions/funding/.
2. Rotman School of Management Scholarships at the University of Toronto.
This school of management is located in Toronto, Canada and is one of the leading schools of management in the world. This school of management is part of the University of Toronto and MBA aspirants can apply to the school to study and earn an MBA degree.
The Rotman MBA is indeed a good investment in one's professional career. The Rotman School of Management does not, in itself, sponsor any students for scholarships for their MBA program, but there are a number of external organisations willing to sponsor foreign students for their MBA at the school.
For example, the Government of Canada International Scholarship Programs. There are many scholarships available under the governmental program for foreign MBA aspirants. Visit http://www.educanada.ca to see a full list of government scholarships.
3. Alberta MBA Scholarships.
Up to $1 million was available to students of the MBA program at University of Alberta School of Business in 2019. There are entrance awards for students that successfully gain admission into the Alberta School of Business which could have value of up to $15,000.Scholarships are awarded during the course of the MBA programs. To know more, visit http://www.ualberta.ca/business/programs/mba/admissions/awards-financial-aid/index.html.
4. Haskayne School of Business MBA Entrance Scholarships.
This school of business is a part of the University of Calgary and they have scholarships for first year students that successfully gain admission. There are also scholarship and award programs for students during the course of their MBA like the Haskayne Student Experiences Fund, SU Travel and Conference Funding and so on. Visit https://haskayne.ucalgary.ca/student-funding-and-scholarships.
5. Schulich School of Business Scholarships.
All international students are automatically considered for the scholarships and awards at Schulich School of Business. There are merit based scholarships, scholarships for those in financial need and so on. Visit https://schulich.yorku.ca/student-life-services/financial-aid/scholarships-awards/.
6. Ivey MBA Scholarships.
There are a number of excellent scholarships and student loans available for Ivey MBA applicants. The scholarship awards are worth up to $1.8 million in value. Kindly visit http://www.ivey.uwo.ca/finance for more information on how to fund your study for MBA at Ivey Business School.
7. Sauder School of Business Entrance Scholarship.
There are also entrance awards and scholarships at UBC Sauder School of Business. Sauder School of Business is a part of the University of British Columbia. Some of their scholarship programs include Dean's Entrance Scholarship, International Talent Scholarships, and so on. You can visit http://www.sauder.ubc.ca/programs/masters-degrees/ubc-mba/admissions-finance/scholarships.
8. Desautels Faculty of Management.
Desautels School of Management is a part of McGill University and is also a top management school in Canada. You can check their scholarships page on http://www.mcgill.ca/desautels/programs/bcom/current-students/scholarships.
9. Smith School of Business – Queens University.
This school of business is a part of Queens university and you can visit their scholarships page at http://www.rhsmith.umd.edu/programs/undergraduate-programs/academics/scholarships. The school is fully called Robert H. Smith School of Business.
10. HEC Montreal MBA Scholarships.
In partnership with the HEC Montreal Foundation, there are hundreds of scholarships up for grabs for you as a MBA student. Visit http://www.hec.ca/en/programs/mba/full-time-mba-/scholarships/index.html.